Round Bar
Product categories of Round Bar, we are specialized manufacturers from China, Round Bar, Steel Round Bar suppliers/factory, wholesale high-quality products of Alloy Steel Round Bar R & D and manufacturing, we have the perfect after-sales service and technical support. Look forward to your cooperation!
China Round Bar Suppliers
Based on application,Round Bar can be classified as tool steel, mold steel, etc.
It is widely used in construction, machine manufacturing, ship building, automobile, aerospace, machine parts processing, etc.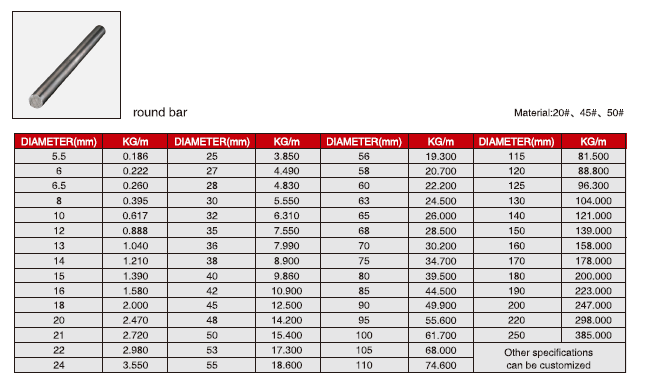 Round steel is a solid steel strip with round section. The specification is expressed in millimeters in diameter, such as "50", which means round steel with a diameter of 50 mm. Round steel can be divided into three kinds: hot rolling, forging and cold drawing. Hot rolled round steel specifications for 5.5-250 mm. Among them, the small round bar of 5.5-25 mm is mostly made up of straight bars, commonly used as reinforcing steel bars, bolts and various mechanical parts; round bars larger than 25 mm are mainly used for manufacturing mechanical parts or seamless steel tubes.